thank you for a great 2023 polar bear fundraiser
Village Inn after-party at reopening. date and time to be advised
see you next year!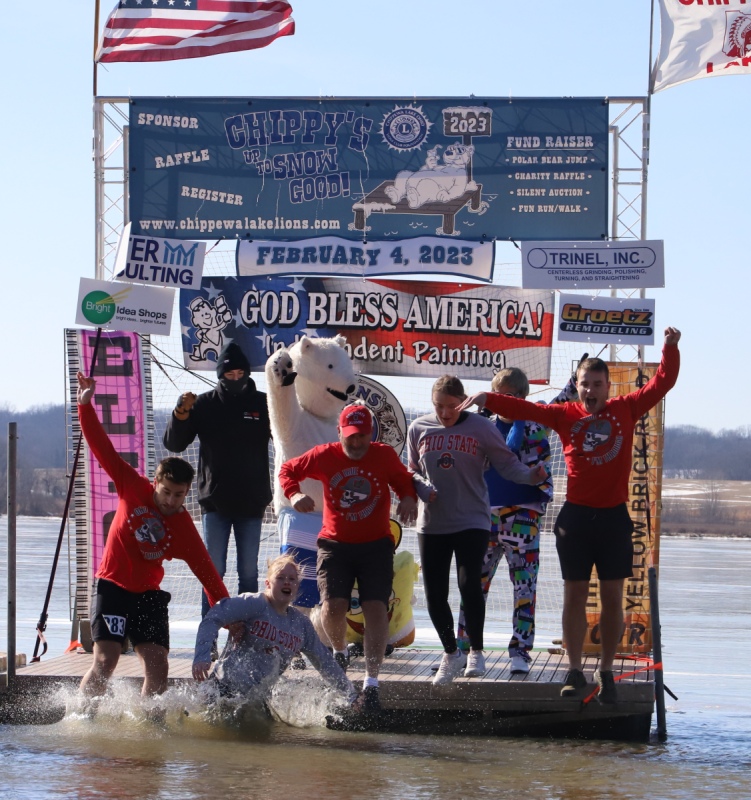 Thanks to All for a Great 2023 Polar Bear
Over $60,000 Raised-More Donations and Raffle Tickets coming in!
2023 Polar bear Raffle Fundraiser Closed
Winning ticket drawing on monday, february 20,2022 at Chippewa Lake Lions Club Foundation meeting-7pm
meeting location: Crosspointe Community church 7230 lake rd chippewa lake, oh 44215
Winner need not be present
thaNK YOU FOR YOUR SUPPORT OF THE cHIPPEWA lAKE lIONS cLUB fOUNDATION
Our Sponsors and Partners
2022 Chippy's Back raised $72,557
Chippewa Lake Lions Club Foundation $23,610.58
2022 Chippy's Back raised $72,557
CrossPointe Community Church $11,805.29
Lions Foundation Makes Charitiable Donations
HUGE THANK YOU to everyone who contributed to the successful  "Chippy's Back" Polar Bear  event.
Gallery
Click on image to see larger version.
What Lions Do
The Lions Club's objective is to serve community needs. They are requesting input from our community on suggested projects or services that are needed in Chippewa Lake, which could be undertaken by Chippewa Lake Lions Club Foundation members. An example might be painting of street signs, park benches, etc. Please feel free to forward any of your ideas to us, and we will present them to the members at the next meeting. Better yet, feel free to join us at the next meeting.
The Chippewa Lake Lions Club foundation is part of the International Association of Lion's Club. Eye care and research are the main functions of Lion's International. Our local Club assists people who need help with purchasing eyeglasses. We also assist local residents who are in need due to accidents, loss of job, diasters and family care. Last Christmas we gave 80 families in the area food baskets to help them out. Our fundraisers are a spring plant sale, Holiday Wreath sale and the Polar Bear Jump/Run in January. Our biggest community service is sponsoring and organizing the 4th of July Parade. Come and be a Chippewa Lake Lion.